There's a reason they call it "Ice" Land
Going back in time to the first two months at Sloan – the annual Trek to Iceland during the 3 day Columbus day weekend. Often, it's the first big trek of Sloan. [For other MIT Sloan treks see here ]
In 2009, a group of 30 of us, decided to follow tradition and head to Iceland for quick whirlwind tour of the country. A few highlights below.
1. Iceland Central Bank – The timing of this trek wasn't too far from the global financial meltdown. Michael Lewis has a great explanation of what Iceland was like in after math of the crisis in Vanity Fair a few months earlier. With the audience of the central bank economists, we had a very interesting dialogue. Coming from their own Central Bank economists "We had no business doing the things we were doing." Definitely puts a perspective on what was going on in the world at that time.
2. World Biggest Geothermal Power Plant – The engineer inside of me loved this tour. Learning about their processes in harnessing this abundant source of energy was amazing. We spoke in depth with one of their engineers (an intern!) about how efficient the process is and how it powers most all of Iceland. It was interesting to hear that one of their biggest and most tedious challenges was cleaning the tubes themselves. I wonder how much more expanded this form of power generation can be applied to other volcanic type areas in the world…Hawaii, perhaps? It would be interesting for the US Govt to at least experiment, so that when/if it becomes an option they too can have some expertise.
3. Hot Dogs – Yes, they are awesome. In the most "happening" area of town (downtown is a full 3 blocks), this famous hot dog stand was amazing. There you'll find a nice picture of President Clinton chowing one down. They taste excellent at 2am.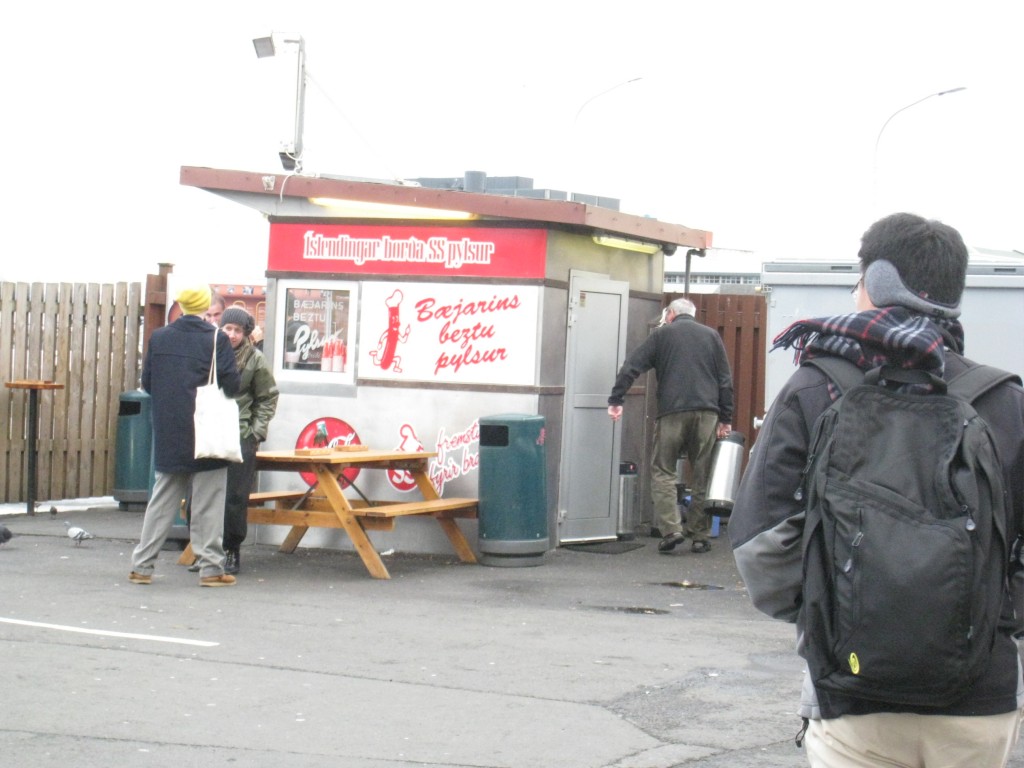 4. Sightseeing – A variety of things to see, from glaciers, to geysers, to hot springs, in the few days we were there we got a view of Iceland. Not only is Iceland abundant in geothermal energy, but as a result, they also have amazing natural hot springs. One of the largest is the famous "Blue Lagoon."
Overall, it was a blast. A great way to get to know my classmates, learn about Iceland, and have a gerat time. I would love to come back and see the Northern Lights (unfortunately we weren't able to see it on this trip).